Our RE/MAX Legacy realtors wear many hats but one thing we're all passionate about is our annual Toys for Tots toy drive. If you've ever visited our Pendleton office in November or December, you'll immediately notice the mountain of toys growing out of our Toys for Tots donation boxes in our lobby.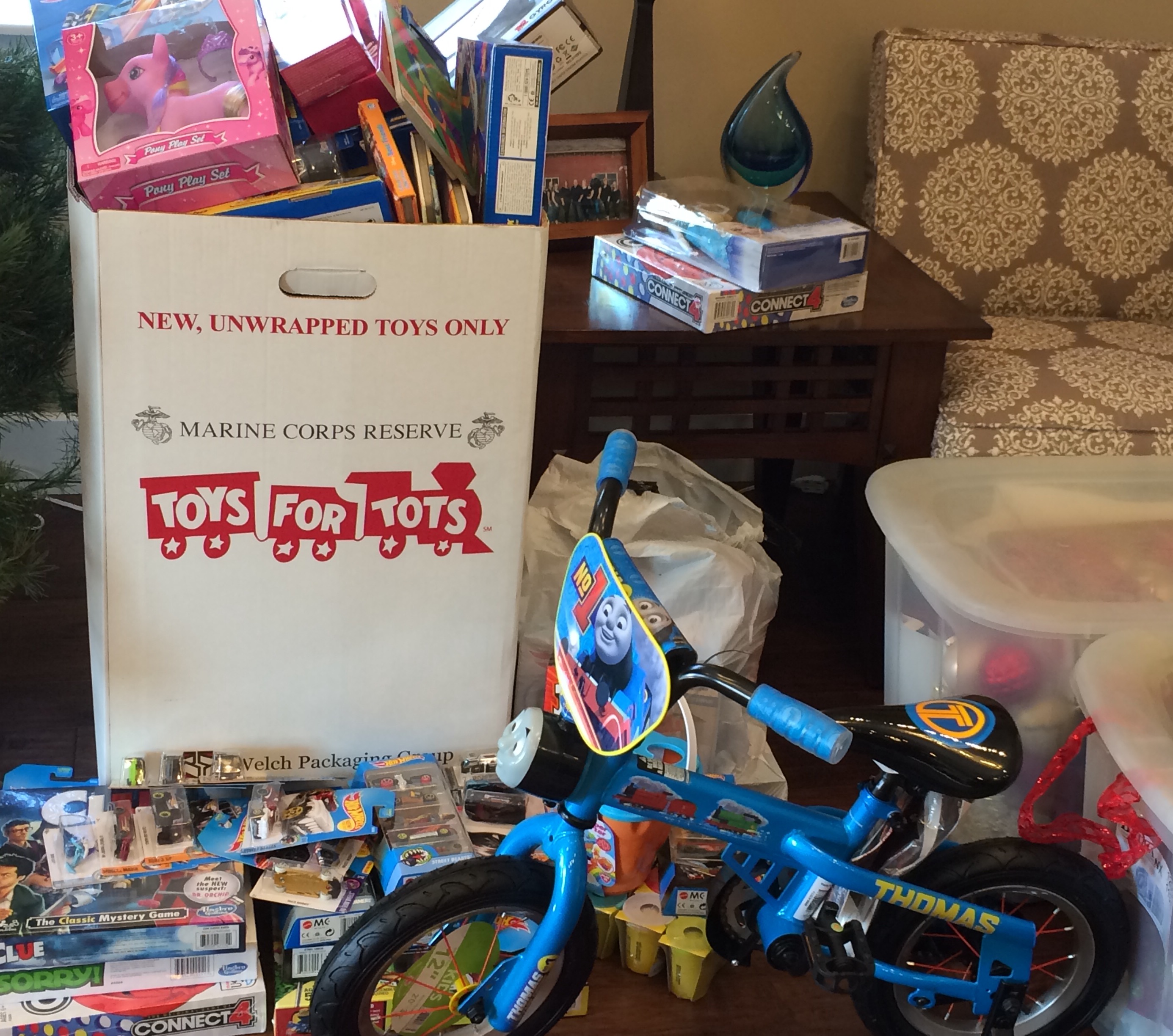 See what we mean?
We LOVE idea of collecting new toys for families that may struggle to purchase presents at the holidays. Recently we learned from the Marine Toys for Tots Foundation that 13 million children live in poverty in the United States. So, we're thrilled to work with our local Toys for Tots organization by volunteering as an official drop off location. We hope to provide as many new toys as possible for the kids in our community that may otherwise go without on Christmas morning.
Thinking about donating to this great cause but not sure how to go about it? We encourage you to stop by our RE/MAX Legacy office at 6692 South State Road 67 in Pendleton with any new, unwrapped toys you wish to donate. In fact, we're counting on the continued generosity of our community as we work toward collecting at least 525 new toys this year.
Last year our office overflowed with 500 new Toys for Tots toys and we're REALLY hoping to exceed that number this year.
If you're wondering just how impactful your donations are, check out these Toys for Tots facts from the Marine Toys for Tots Foundation:
Local Toys for Tots programs exist in over 700 communities in the U.S. including the District of Columbia, the Virgin Islands, and Puerto Rico.
Last year Toys for Tots distributed approximately 18 million toys to children and families.
The Toys for Tots Literacy Program raised over $454,000 with the help of UPS during this last year.
One of the great things about local Toys for Tots programs is that you can help out even if you're not able to buy a toy or contribute money. Talk to your local Salvation Army or local Toys for Tots office about how to volunteer your time. There's often a need for help with sorting, distributing, etc.
Another nice way to bring out some holiday spirit is to involve children. If you have kids or grandkids, consider taking them shopping for a Toys for Tots toy. As adults, it's easy to assume the little ones in our lives are tuned in to our community's needs like we are. However, it's more likely that our kids need to learn by example so teach them the joys of sharing by helping them donate to our Toys for Tots program.
We hope you're inspired this holiday season to give back to the community in some way. Here at RE/MAX Legacy we're so thankful for all the donations to our Toys for Tots toy drive. We really couldn't do this without the support of the Pendleton area and we sincerely thank each and every one of you! Merry Christmas!