Do you ever look in your closet and say, "I have nothing to wear?" Most closets weren't designed to showcase clothing. They are often an afterthought and constructed with little more than a shelf and a rod. What results is a closet that is overfull and under-utilized.
We have asked our friends at Closet Concepts, Inc. to give us a little insight into their world and how they can help us to improve our home's storage. Michelle says, "If you are struggling to keep your rooms organized, all of you have to do is opt for the professionals at Closet Concepts, Inc. to help."
What I love about Closet Concepts is it is a local Pendleton family owned and operated company with locations in the Indy Metro area and Ft. Wayne. Joe and Michelle Ross operate the Indianapolis location and they live in Pendleton with their four children. This year marks Joe and Michelle's 20th year of business for the Indy Metro location!
When you ask Michelle why they chose Pendleton, you will quickly find they fell in love with the small town feel with country charm. Michelle grew up on a farm and they wanted to raise their family in a small town. She exclaims, "Pendleton was the perfect spot for us. We have lived here for 15 years now and it definitely is our home!"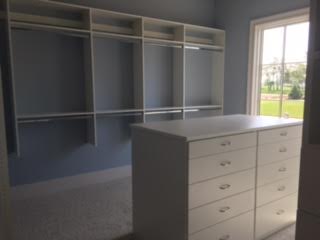 Closet Concepts can transform your ordinary closet into something extraordinary! Joe personally meets with all of the clients to determine their individual needs and then designs the perfect space for them. Imagine a closet with double the hang space, shelves specifically for shoes, drawers and baskets to keep your items neat and out of sight. They also offer tie and belt racks, garment pulls, jewelry drawers, pull-out mirrors and various size baskets and basket liners. With options like this, it becomes fairly easy to bring a new level of organization to your closet!
Closet Concepts doesn't do just closets. They can help bring order to your entire house. They offer solutions for your pantry, office space, mudroom, laundry room and garage! They offer a polymer garage floor coating. It involves diamond grinding your garage floor, applying a base color coat, a layer of color chips of your choice and 2 clear coats. The end result is a very durable product that is easy to clean and ultimately turns your garage into another room of the house!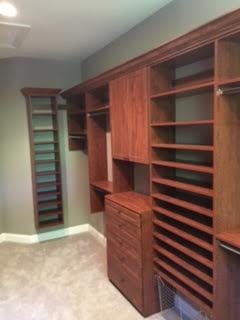 Need a few tips for your home? Michelle highly recommends jewelry drawers. They are a nice feature that allows you to store all of your jewelry neatly in one place. Baskets are great for storing everything from toys to hats and gloves in lockers, or even chips/ potatoes in your pantry. Belt racks and tie racks give you a specific place to hang those items that might otherwise get lost.
No job is too big or too small. They will work with your space and budget to find the perfect design. Be sure to check out their website at www.closetconceptsinc.com. For a free estimate and design you may visit the website or call the office at 317-848-8444.